one to watch : camilla morton
(Hodder & Stoughton Ltd)

A follow up to her massively fantastic debut How To Walk In High Heels, 20th September sees the release of A Girl For All Seasons.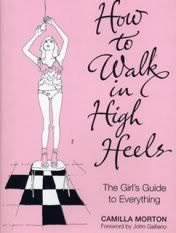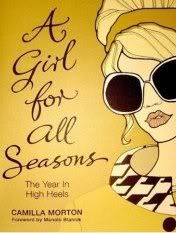 Amazon review: 'If your resolutions tend to look much the same from one year to another and you are suffering from the suspicion that someone, somewhere is having more fun that you, then you need something to revitalise your lust for life. A GIRL FOR ALL SEASONS is here to help. This book will guide you through the months with a perfectly co-ordinated combination of culture and challenges. With a monthly muse to inspire, and a suggested title for that soon-to-be-formed book club, dumbing down is so last season.Erin O'Connor, Dianevon Furstenberg, Matthew Williamson and others share their secrets about their favourite places - so the next time you check in you'll know what to check out - while Dita von Teese, Anya Hindmarch and Christian Lacroix showyou how to undress, how to go green and how to appreciate opera. Eclectic, practical and fantastical, A GIRL FOR ALL SEASONS is crammed with fascinating stories, inspiring ideas and surprisingly sensible advice. Forget who, when, why and what to wear. Get ready to wow! Foreword by Manolo Blahnik.'

With the amount of laughs I had with her previous book ('supermarket aisles are the perfect place to practice your glide. Not only do you get to stock up on all your groceries and wow the locals, but you get up to twenty-four aisles' worth of runway-smooth surface to practice on, while being supported by a trolley, the ultimate stabilizer for the novice stiletto wearer. Ignore any funny looks, they are either jealous they didn't think of this idea, or mystified why someone so glamorous doesn't have 'hired help' to do their shopping') I absolutely cannot wait for this one! Her books are funny and smart, sexy and laugh out loud, and an enjoyable read for any chick-lit fan!

I don't really buy hardbacks so I have until 18th May 2008 to wait for the paperback, so if anyone reads it give me your thoughts!!!